This week, students and alumni from TUMO Yerevan to Stepanakert gathered for the second annual Vahé & Lucie Awards Ceremony. In front of an audience of family and friends, members of the competition jury — distinguished professionals across the competition areas — presented winners with awards. There were warm remarks, live music, plenty of photo ops and even some tears — of joy, course.
Over the course of the evening, Masters of Ceremony Zara and Vahag invited jurists on stage to say a few words about each winner and present them with plaques. The audience let out an occasional "ooh" and "aah" — like when Anna Alexanyan, first place winner in the Music category, rapped her original song at lightening speed.
"Tonight, I'll finally get some sleep," said Mariam Grigoryan, who'd anxiously awaited the ceremony for days. Mariam, who took first place in Photography as well as the grand prize, "Best of All Categories," explained that it was only a few hours before the deadline that she decided to enter the competition. She never dreamed of winning! While the grand prize was being announced, she was busy chatting with friends and barely heard her name. An aspiring architect, Mariam loves architectural photography and will continue to capture her favorite buildings.
Maria and Mushegh, first place winners in the Film category, found out that they won while sitting in a cafe in Kaskad. "We were shocked to read our names on the list of winners on the website," said Maria. "All of Kaskad must have of heard us scream." They're going to spend the prize money on new equipment for future film endeavors.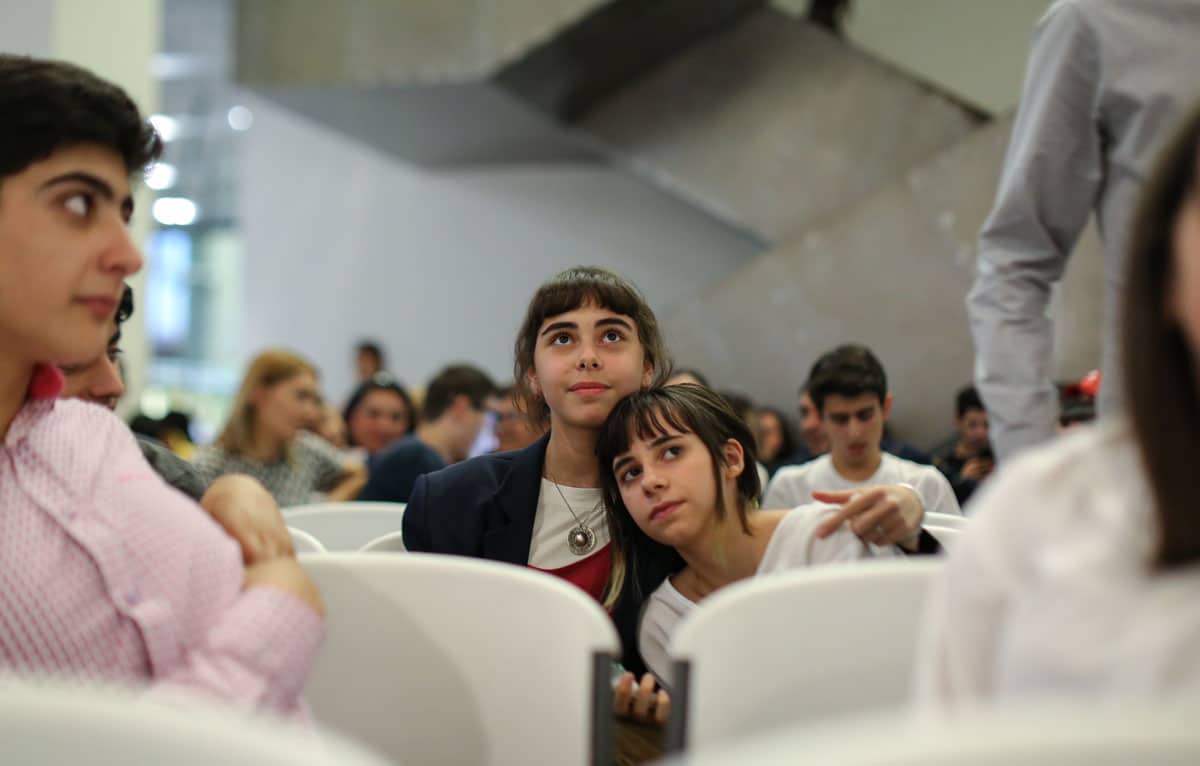 Andranik is part of a group that designed and made InvestigatoRobot, a robot capable of inspecting pipelines, which won first place in the Technology category. He found out that they won on a flight back to Armenia from Spain, where he was accepting an award for the same robot in an international competition. "We plan to take InvestigatoRobot to market as a product," said Andranik. Of the group of four behind the invention, one is currently serving in the army.
The Vahé & Lucie Awards is an annual competition for TUMO students and alumni across five categories — music, photography, art, tech and film — with three prizes of 1.5 million AMD, 1 million AMD and 500,000 AMD per category. Check out this year's complete list of winners here.
The annual Vahé & Lucie Awards is made possible by Vahé Fattal. An artist and graphic designer by profession, he founded a design and advertising agency in Los Angeles, California that catered to major media broadcasters and film studios. He founded the competition at TUMO in memory of his wife, Lucie Fattal. The competition aims to recognize TUMO students and alumni for their work and creativity and motivate them to continue innovating in their fields.