Alt-July is around the corner! A record breaking 100+ learning labs are on the calendar — being led by TUMO workshop leaders and dozens of industry professionals from around the world. Wondering who's behind this logistical feat? None other than members of our Learning Labs team Liana Harutyunyan, Zara Kevorkova, Marianna Zakiyan, and manager Astghik Hambardzumyan, with whom you've already been acquainted here.
Liana is the link between students and the Learning Labs team. Prior to working at TUMO, she was a student herself, attending TUMO Yerevan for six years and participating in her last lab as recently as February. As a student, her favorite lab was graphic design with Haytham Nawar, where she designed an illustration of the word moonat, "sarcasm," to match her personality.
The idea of coordinating 100 learning labs in a single month was daunting. But, Liana and her team are accustomed to making the seemingly impossible possible. She looks forward to Cabeza Patata's 3D character design lab and its robot fashion show.
Marianna has been part of the Learning Labs team for a year and a half. She joined with seven years in tourism under her belt, experience that comes in handy when she's coordinating airport transfers, housing, transportation and all the necessary equipment for lab leaders. She's often a best friend and savior to guests at TUMO.
Marianna expects July to be exciting and chaotic for her team. She's sure that lab leaders are equally as excited. They'll have opportunities to network and get to know each other all month long. Alt-July will also open new doors for our staff of permanent workshop leaders. They'll go beyond the regular workshop curriculum in planning and leading their own learning labs. Marianna is most excited for Luka Piškorec's generative model building lab. With his help, students will build 3D models in Rhino and Grasshopper, then bring their blueprints to life by cutting and assembling 900 meters of wood.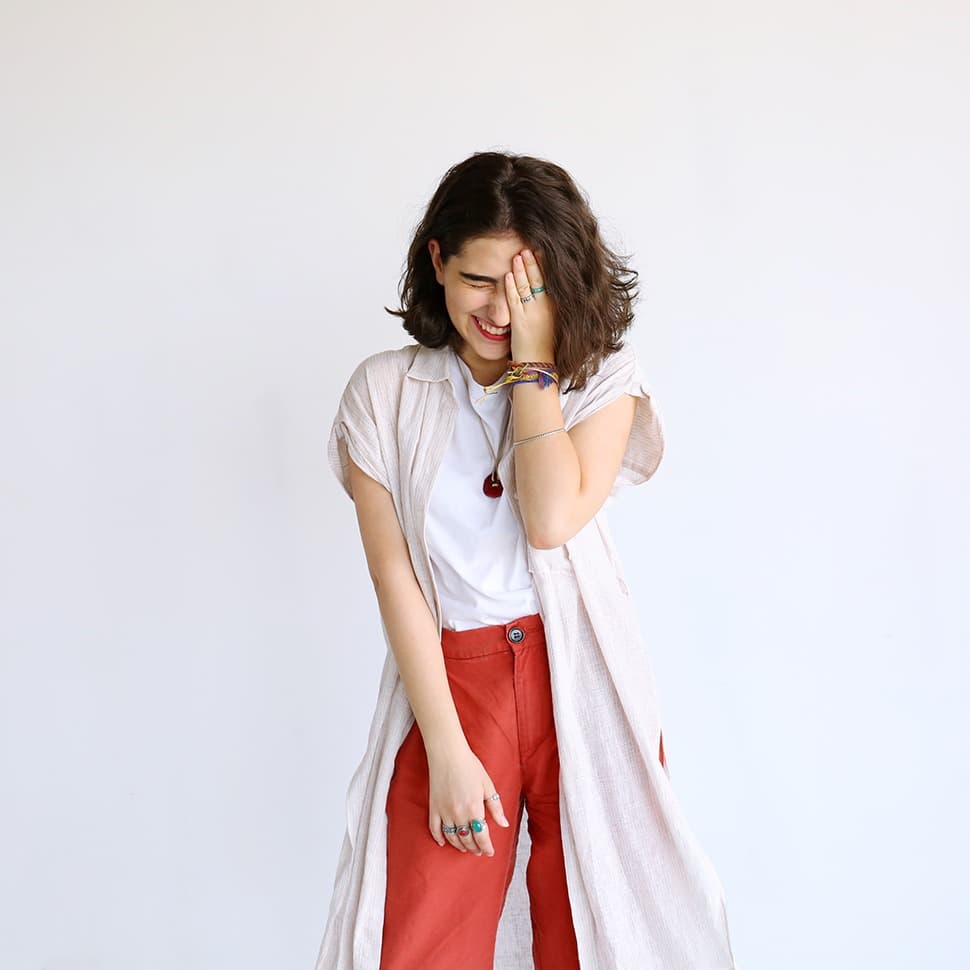 Of all the weeks to join the Learn Labs team, Zara chose the last one, one of its busiest. Prior to joining, she was a TUMO student and lab leader assistant for six years. Her most memorable experience was a skateboard design lab with Finnish artist Ossi Pirkonen. She signed up for the lab with no drawing experience and has grown a lot since.
Although Alt-July will be stressful, Zara is up for the challenge. She's excited about the creative writing workshops being led by MFA students from Columbia University. They're from one of the best schools in the world and have a lot of experience in their field.