The Vahé and Lucie Award is given annually to TUMO students and alumni for their work in the fields of art, technology, music, photography, and film. More than 350 applications sent from different cities of Armenia and Artsakh were considered based on their creativity, effort and technical skill. Five jury groups consisting of TUMO students, workshop leaders, and specialists in the relevant fields selected the 1st, 2nd, and 3rd places in each category.
At the request of the contest participants, this year the entire prize fund of 15 million dram was sent to Artsakh through the All-Armenian Fund.
Vahé Fattal, the founder and sponsor of the contest, passed away this year. This year's award is dedicated to the memory of Vahé and his wife Lucie.
Vahé and Lucie 2020 Winners
ARTS
1st Place
Soyuz, TUMO Yerevan
Alexander Zatikyan, 14
Inspired by comic book films, the COVID-19 pandemic and video games, the artist has created his own series of illustrations, which he has collected in one union – "Soyuz".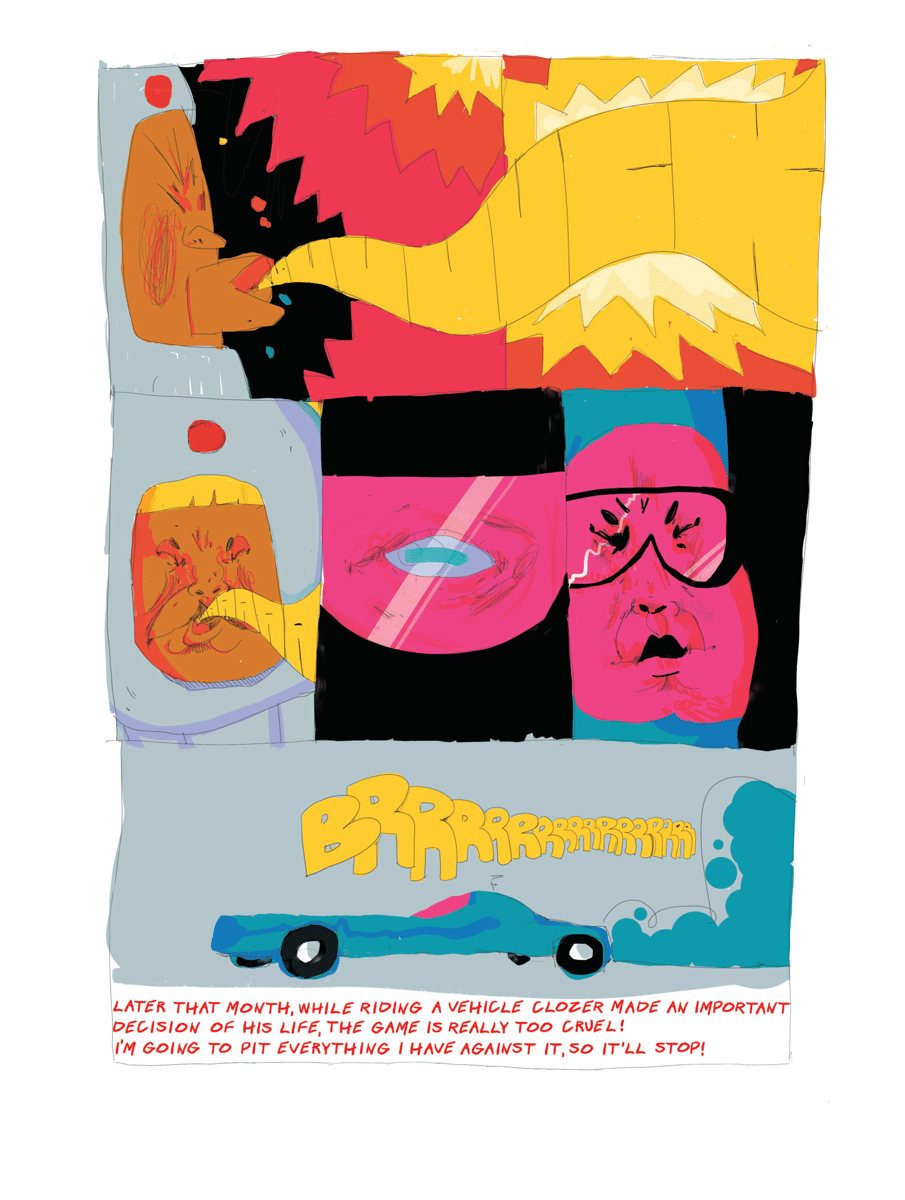 2nd Place
The Legend of Nrané, TUMO Yerevan
Siranush Vardanyan, 18
After discovering she has magic powers, the life of the protagonist, Naré, and the lives of those in her kingdom change forever…
Լեգենդը Նռանէի
Առավոտ էր: Չնայած որ շողում էր արևը, Նարէի համար օրը պայծառ չէր: Նա այլևս չէր նկատում բնության գեղեցկությունը, չէր գնում իր սիրելի կանաչազարդ դաշտն ու նկարում, չէր խաղում թիթեռների հետ, չէր խնամում իր պարտեզի ծաղիկները, գիշերները չէր զմայլվում աստղերով ու երազում, չէր նայում երկնքին ու ամպերին: Նա ամեն օր տխուր ու գլխիկոր մտածում էր, նա անհանգիստ էր… «Ես չեմ ճանաչում իմ ծնողներին, Անանէին, մարդկանց…Ես կարծես միայնակ լինեմ»:
– Ի՞նչ է պատահել մեր «յուրահատուկ» աղջնակին, չլինի՞ թե կորցրել ես խոսելու ունակությունը,- ծիծաղեց մի սևահեր աղջիկ:
– Երևի թիթեռներն այլևս ընկերություն չեն անում նրա հետ,- Նարէի մեջքի ետևից լսվեց շատ ծանոթ ու հարազատ ձայն:
Անանէն էր…
Նարէն շուռ եկավ և տեսնելով նրան՝ քարացավ:
3rd Place (2 winners)
Stamps of Armenian Queens, TUMO Yerevan
Anna Ambardanyan, 18
The author created a series of stamps dedicated to Armenian queens, depicting each character's unique personality. Four queens were chosen: Erato, Parandzem, Katranide II and Zabel.
3rd Place (2 winners)
Branding of the Golden Apricot Film Festival, TUMO Yerevan
Ariné Davtyan, 18
Lilit Mardanyan, 17
Sofia Galustyan, 19
Sona Mkrtchyan, 19
As a result of graphic designer Nuné Khudaverdyan's lab, students Ariné, Lilit, Sofia and Sona created a branding campaign for the Golden Apricot International Film Festival. The futuristic effects and contrasting colors of the posters convey the theme of the festival – the intersection of paths.
FILM
1st Place
Jenik's Daughter, TUMO Yerevan
Mariam Boretsyan, 27
The 22-year-old heroine, labeled "Jenik's Daughter", lives in a reality where everyone is labeled from birth. However, after the death of her mother, Jenik, the heroine is in a constant struggle with her label.
2nd Place (2 winners)
The Bee and the Beekeeper, TUMO Yerevan
Larisa Baghdasaryan, 15
"The Bee and the Beekeeper" tells the secrets of beekeeping, the daily life of a beekeeper, and what it truly entails. The film takes place in the village of Lchkadzor in the province of Tavush.
2nd Place (2 winners)
The Quarantined Doctor, TUMO Gyumri
Artush Petrosyan, 16
Shot during Andranik Babayan's online workshop, the protagonist of the film, Melsida, is a senior nurse at the Gyumri Medical Center, who wakes up early in the morning, has her coffee and goes to work to fight viruses.
3rd Place
Inorganic, TUMO Gyumri
Hovhannes Simonyan, 17
Lilit Galstyan, 18
Azat Ginosyan, 17
A mashup of the unrelated: Gyumri, self-isolation, Hamasyan, everyday life, and hip-hop montage. In TUMOian Hovhannes's film, the simplest daily scenes appear in a unusual medley.
MUSIC
1st Place
Dream, TUMO Yerevan
Amalya Hakobyan, 24
TUMO alumna Amalya Hakobyan combines jazz harmonies, electronic synths and her vocals in her work created through Ableton Live. This experimental work recounts her dream.
2nd Place
STZ, TUMO Yerevan
Stepan Zhamkochyan, 18
Stepan Zhamkochyan created this composition on Ableton Live in 2018, when he was still a student at TUMO Yerevan. He is currently serving in the Armenian Armed Forces and was able to submit the application through a friend. The name of the work is its network nickname.
3rd Place (2 winners)
Stan, TUMO Yerevan

Alice Sukiasyan, 22
Kristine Yeghiazaryan, 22
TUMO alumnae Alice and Christine wrote this song during quarantine, recording each part separately, and discussing the piece over Zoom. This is the first song by their newly formed band. Stan was created using Ableton Live.
3rd Place (2 winners)
Path, TUMO Yerevan

Anna Alexanyan, 15
Jemma Khachatryan, 17
TUMO Yerevan students, Anna and Jemma, wrote and compiled the composition together with the support of music workshop leader, Alexander Ananyan
Special Mention
Improvisation, TUMO Yerevan

Arman Harutyunyan, 19
Arman Harutyunyan was one of the winners of the Vahé and Lucie 2018 Award. He submitted this improvisation in June 2020, before being deployed to the army. Arman was martyred during the 44-day was in Artsakh in October 2020.
PHOTOGRAPHY
1st Place
Basketball Without Borders, TUMO Yerevan
Aren Grigoryan, 21
TUMO alum Aren Grigoryan's photo story presents the game between the BKMA and AIN basketball teams. The game took place in September 2020 as part of an international outdoor wheelchair basketball competition.
2nd Place
Marketplace, TUMO Yerevan
Lida Gevorgyan, 23
TUMO alumna, Lida Gevorgyan, visually presents bustling daily life at one of Yerevan's markets. There are a lot of old things and old people, people who want to be photographed and those who categorically refuse to have their picture taken.

3rd Place
A Mummy in the 21st Century, TUMO Yerevan
Gnuni Hayrapetyan, 17
Martin Hakobyan, 23
The work of TUMOian Gnuni and TUMO alumnus Martin depicts mummy adapting to the modern world.
TECHNOLOGY
1st Place
Liquidizer, TUMO Yerevan
Nane Sargsyan, 20
Davit Kirakosyan, 21
The idea for the Liquidizer mobile game was born two years ago during a 48-hour hackathon and came to life during the pandemic. It is a puzzle game with 30 worlds of varying complexities. The protagonist of the game is an alchemist raccoon who tries to collect the "philosopher's stone".
2nd Place
Optical Character Recognition, TUMO Yerevan
Robert Grigoryan, 17
Robert Grigoryan's project is a web-mobile application and a telegram bot that recognizes optical characters based on artificial intelligence. The program allows you to draw any word on the canvas that will be displayed in the text. It is also possible to download a picture containing text and the program will recognize it.
3rd Place
A.M.A.S., TUMO Yerevan
Anna Stepanyan, 17
Artur Manukyan, 18
Nare Chalyan, 18
Avetis Fishnjikyan, 17
A.M.A.S. is a spider shaped apparatus. Its acronym is short for autonomous multifunctional ambulatory spider. Being improved technically, it will become a useful apparatus in a number of fields. It will move objects from one place to another over a variety of surfaces from smooth to rocky, and it can be used in exploration and study of an area in different industrial fields.
Arts
Aram Gyumishyan — Vice President at TUMO Studios
Aida Shalaeva — Tumo Student
Ani Asatryan — Tumo Workshop Leader
Photography
Arnos Martirosyan — Photographer
Lilit Galstyan — Tumo Alumna
Varo Rafaelyan — Tumo Workshop Leader
Music
Gor Mkhitaryan — Artist
Khachatur Hayrapetyan — Tumo Workshop Leader
Mariam Nazaryan — Tumo Alumna
Technology
Armen Paronikyan — Tumo Student
Davit Mkrtchyan — Tumo Workshop Leader
Harutyun Baghdasaryan — Director of Engineering at DISQO
Film
Andranik Babayan — Tumo Lab Leader
Maria Sargsyan — Tumo Alumna, 2019 Vahe Lucie award winner
Nune Hakhverdyan — Film Critic
The Vahé & Lucie Annual Awards encourages TUMO students and alumni to innovate and make strides in their fields. The program was launched by Vahé Fattal in 2018 to honor his late wife Lucie. Since then, Vahé has also passed on, and the competition is now dedicated to both of their memories. On behalf of all TUMO students, alumni and staff, we are tremendously grateful to the Fattals for their vision and generosity.
Vahé was a painter and graphic designer who studied at the National School of Fine Arts in Paris. After working as an art director for major firms in Los Angeles, he established his own design and advertising agency. Its creative services included corporate identity and communications, advertising and marketing, motion picture and television campaigns, and motion graphics and branding. The agency's clients included the "Big Five" Hollywood movie studios, National Geographic, Nissan, UCLA Extension and First Interstate Bank. For 18 years, Vahé's firm was also ABC Television's exclusive advertising agency.
Lucie graduated from the University of California, Los Angeles (UCLA) with a master's degree in philosophy and French literature. She went on to take intensive French Language and Civilization Courses (CCFS) at the Sorbonne University in Paris. Vahé and Lucie met, lived and were married in Paris. They later settled in Los Angeles, where Lucie taught French before founding a travel agency in Beverly Hills. Her agency organized personalized international travel & accommodation services for the art world, entertainment industry and corporate businesses.
Throughout his life, Vahé was creatively involved in advancing Armenian causes and projects. He designed the raised-first Karabakh symbol and posters (1988) and the flag of Karabakh (1998). He helped establish the Golden Apricot International Film Festival (2004) and designed its visual identity. Vahé also designed the "Make it Happen" advertising campaign (2004) for the Armenia Fund Telethon and was the art director for AIM/Armenian International Magazine (1990-1992).
Vahé and Lucie shared a commitment to and passion for all things Armenian, education, the arts and exploring the world.