A beehive of hundreds of teenagers intensely engaged with their learning activities inside a forest of hanging cables – that is one of the iconic images every visitor to TUMO Yerevan remembers vividly. Those hanging cables that shuttle data to and from students, power their devices and tether their mobile workstations are affectionately known as "umbilical cords."
Each umbilical cord is made up of dozens of modular rings that the TUMO founders themselves designed at the very beginning, and that they modeled in 3D with the same kind of design thinking, technical creativity and digital tools our students use today. They are now manufactured by the thousands for use in TUMO centers worldwide.
"A key feature of TUMO Yerevan's Architectural design was that it connected student workstations from the ceiling in order to keep the floor completely free and open." says founding CEO Marie Lou Papazian, "This was an important decision, reflecting our core pedagogical principles of flexibility, mobility and access."
But when the founding TUMO team started looking for solutions for housing cables in a flexible conduit, they realized existing products were prohibitively expensive, especially given the large quantities TUMO needed. So, they invented their own solution, which turned out to be over 20 times more affordable, resulting in significant savings. It also turned out to be extremely popular.
Initially manufactured in black, to match the color of the Yerevan center's "barcode" walls, the umbilical cords were later also produced in an elegant translucent version. Their usage was extended to workshop rooms, connecting the network of workstations on each workshop table to the wider TUMO network and to the internet. As additional centers opened in Armenia, they were used in Dilijan, Stepanakert and Gyumri, as well as in TUMO boxes around the country.
And as TUMO expanded internationally, the umbilical cord went global, appearing in France, Germany, Lebanon, Ukraine and beyond. It was also a major feature of TUMO's pavilion at the 2020 Venice Architecture Biennale, seen by close to 500,000 visitors from all over the world. Thousands of the modular rings that make up the umbilical cord have been manufactured to date, and as the TUMO network expands, that number is set to triple in the coming years.
The popularity of the TUMO umbilical cord has even transcended the center itself. TUMO's neighbors in Yerevan, including Picsart and DISQO, asked to use umbilical cords in their offices, where the characteristic hanging cables have become a prominent feature of the interior design. And when TUMO established the 42 Yerevan coding school, with its requirement of up to 16 cables connecting each cluster of workstations, the umbilical cord proved to be the optimal solution once again, and, for the first time, it was used to its maximum capacity.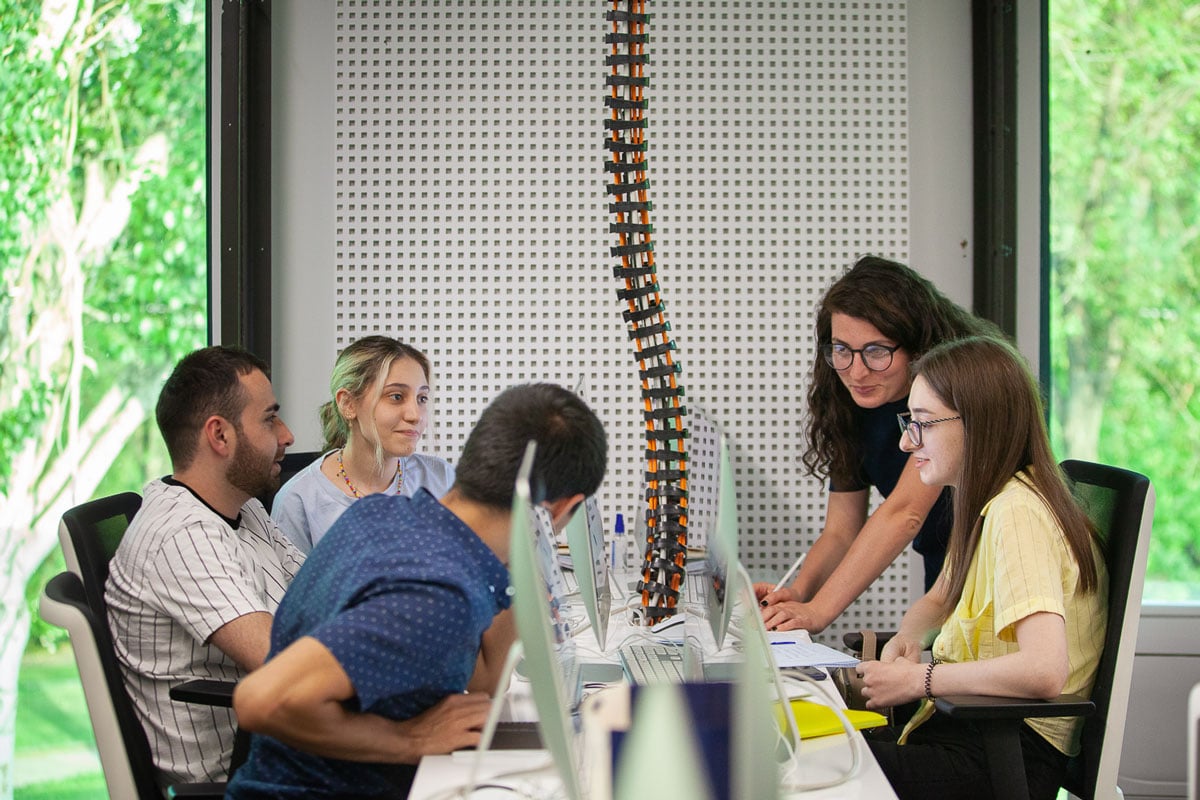 But the journey of the umbilical cord is far from over. Recently, a local firm has started manufacturing and commercializing a cabling solution that is a replica of the TUMO design. This has led to the adoption of the TUMO umbilical cord by other institutions, including educational ones. Conceived over a decade ago, along with the TUMO program itself, the umbilical cord is still going strong, as it continues its mission of connecting people to each other and to the world.