"Don't miss this opportunity to take part in a writing lab by Columbia University, in which you will gain insight into poetry, literary and documentary works, and many other writing genres. Hurry up and put your creativity to pen, to paper." It's been a few years now that TUMO students from Artik to Kapan have been seeing this announcement in their Paths, and it's grabbed their attention — to say the least.
Columbia University is considered one of the best in the world and it's known that the TUMO Learning Labs team never misses an opportunity to bring in the best for our students to expand their knowledge. 9 learning labs, 15 experts, and 90 TUMOians that have successfully completed the lab — all of this is the results of a 5-year long collaboration, the continuation of which guarantees that these numbers have yet to grow.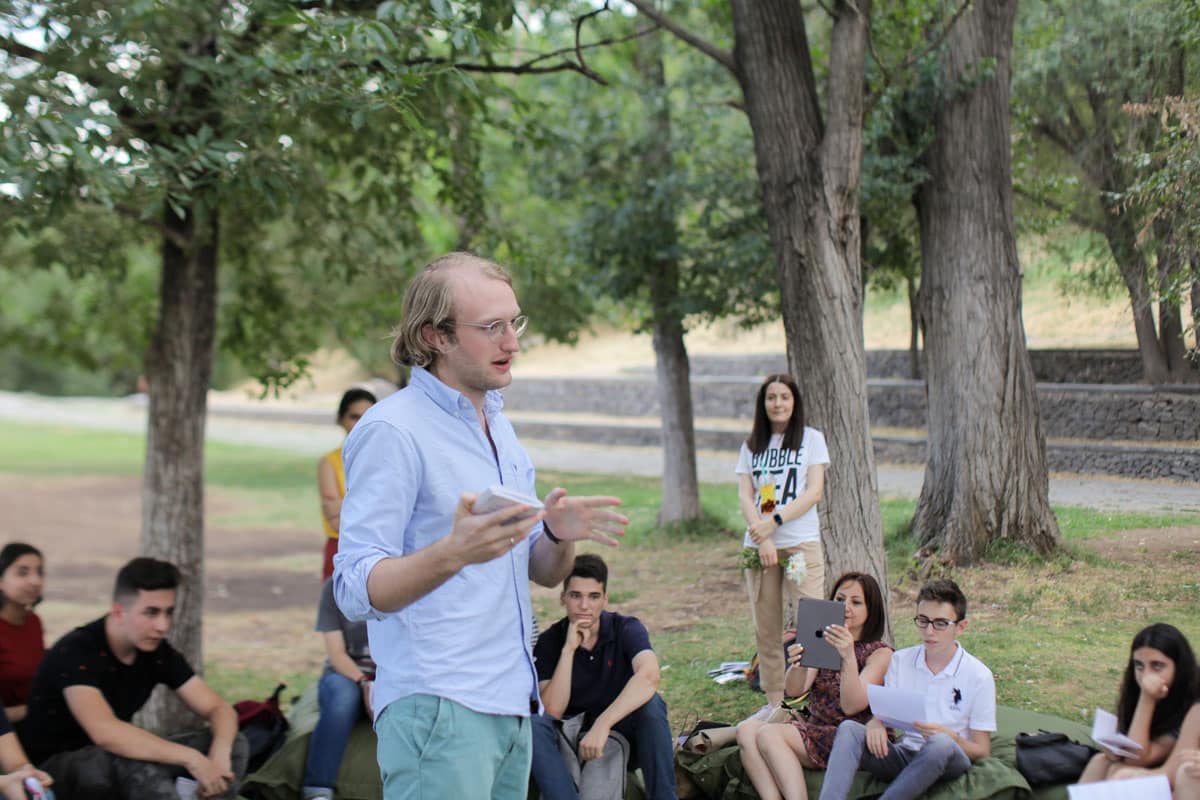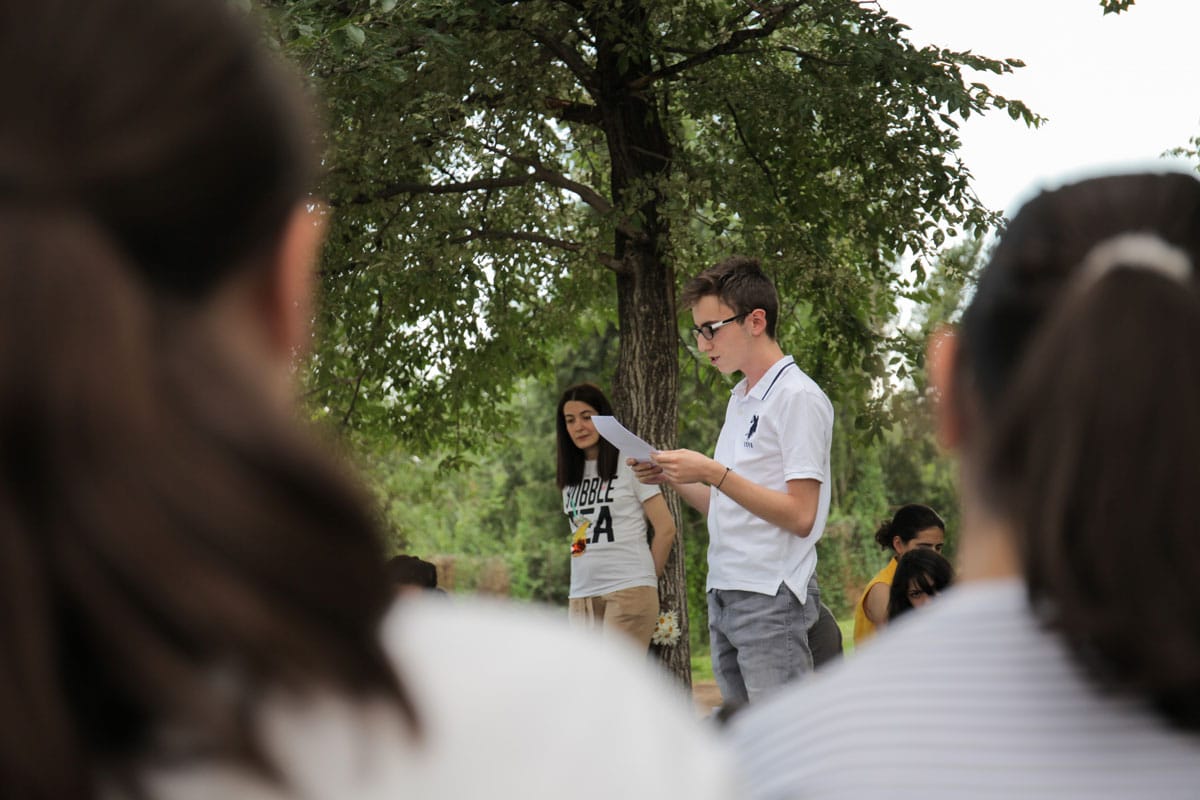 TUMOians in the creative writing lab with Elias Sorich and Alex Ulloa met up for a reading in Tumanyan Park, 2019
Writing is one of TUMO's 14 learning areas, but this lab is different from typical writing workshops and self-learning exercises at TUMO. Let's discover why.
This workshop, dedicated to literature, can stretch from 6 to 9 months, in which time TUMOians go through a long creative process with experts at Columbia University, learn about different genres, conduct extensive research, improve their English, and more.
Matthew Gonzalez is a graduate student at the Columbia University School of the Arts; his focus is on poetry and literary translations. With him, dozens of students who have connected online from Armenia and Artsakh have uncovered the principles of poetry, their role in any literary composition, the secrets of combining more than one language in one piece, and much more.
"My favorite lesson and the lesson that I think the students really love the most, is one called 'Nonsense'. I think the students really like it, too, because it is itself kind of a synthesis of so many other genres like surrealism, symbolism, dadaism. The students are really good at nonsense, because it allows them to play with language like a texture," recounts Mathew.
Matthew describes his poetry as an admixture of the tentacles of the Information Age, French Symbolism, and the scale, proportion, and myth of the cosmos down to the subatomic microcosmos. For Matthew, poetry is everywhere. "When something is really, really beautiful or artistic, you could say it's very poetic… I don't teach how to write a poem. I teach how to write the idea of poetry or turn anything that is beautiful into something poetic. I allow students to write whatever they want, helping them along the way in one of the most important aspects — applying metaphors. Since metaphors have a significant role in poetry, I teach the techniques of using them," says Matthew.
Matthew really loves TUMO and TUMOians. Besides the two online workshops, he has also been to Armenia twice and led learning labs that allowed him to interact with the students in Yerevan and Gyumri in person. He is impatiently waiting to return this summer. He says that from the first lesson at TUMO he was already impressed by how prepared the students were, by how they supported him during the classes, and by how much potential and desire to learn they possessed.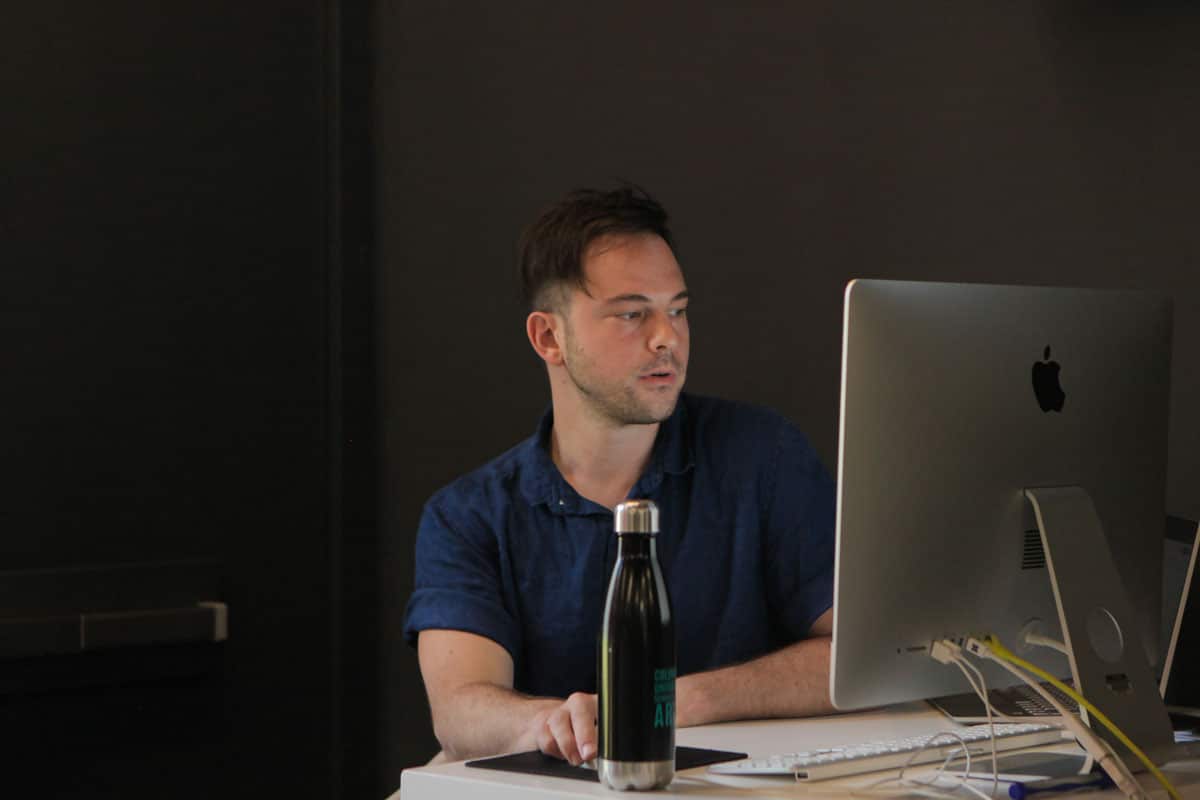 Matthew Gonzalez's lab at TUMO Gyumri, 2022
"I've learned so much and gained many benefits from my students. They are very honest and will sense if you don't know what you're talking about. Teaching is also like seeing the world through new eyes, and the students from TUMO have really, really enthusiastic and artistic eyes too," Matthew describes the workshop participants.
Over the past few years, this workshop has formed a bridge between Yerevan, Gyumri, Stepanakert, Kapan, Artik, and a list of other Armenian communities and New York. Maria Melik-Karamyan from the TUMO Box in Kapan, for example, says that for her the workshop was an opportunity for self-discovery. "I've started to write in a more distinct and interesting way. Soon, the three stories I've written throughout the workshops will be published in the online journal that my friend and I started," she says.
TUMO Gyumri student Marianna Harutyunyan notes that, besides her writing skills, the worksop has developed her time management skills, and Ruzanna Sargsyan of the TUMO Box in Artik says, "For me, the most important achievement from this workshop was that I was able to develop the characters in my head and put them to paper. I started to see my stories from a different perspective, and was better able to make decisions when writing and understand what was working well for me and what I still needed to work on."
Three Columbia University workshops have played a pivotal role in TUMO Yerevan alumnus Ani Sarafyan's life. 17-year-old Ani says that the workshop helped her break the stereotype that "writing is a gift given from above". "I understood that writing is serious, systematic work; a means of continuously working on yourself", shares Ani. She adds that, as a result of the workshop she gained new friends and mentors from the other side of the world, who, despite the linguistic and cultural differences, are able to understand her with just one glance.
Rachel Keranen's lab at TUMO Yerevan, 2020
"They're young, impressionable, and free. A little guidance to help them find their artistic vision and their direction; my work is a service meant to accomplish just that, which I love to do", concludes Matthew.
Year over year, the results from these workshops — workshops led by experts from one of the best arts departments in the world, from one of the best universities in the world — point to the strength of this collaboration. It also guarantees a whole army of young contemporary artists that are bound to emerge in the field of literature. If you're looking for proof, we suggest taking a look at the student's writing compositions in the TUMO Portfolio.